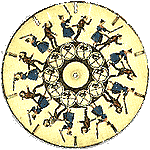 Nowadays, animation is a medium of artistic expression which is used by a vast number of professionals, to make conventional cinema and television movies but they are not alone. Each day, thanks to 3D animation and the widening field of multimedia, more and more artists are beginning to see animation as an ideal way of giving expression to their ideas, through image to image sequences.

Today it is not very difficult at all to succeed with such projects, thanks to all of the technological aids we have at our disposal, but the endeavours that have been made up until now (over more than a century) deserve to be known and remembered.

This blog attempts to pay tribute to the pioneers who made possible the birth of animated cartoons, via a chronology which begins with the first and rudimentary optical toys and concludes with the innovations which have made possible the execution of animated cartoons as we know them today.

Seasons will be included, as will retrospectives and all of the animated shorts from those classic creators who, with their inventiveness, advanced the development of animation in each period.

We would be grateful for any kind of comments or information you feel disposed to share with us in this little space.

So, welcome and... LET´S GO TO THE SHOW!